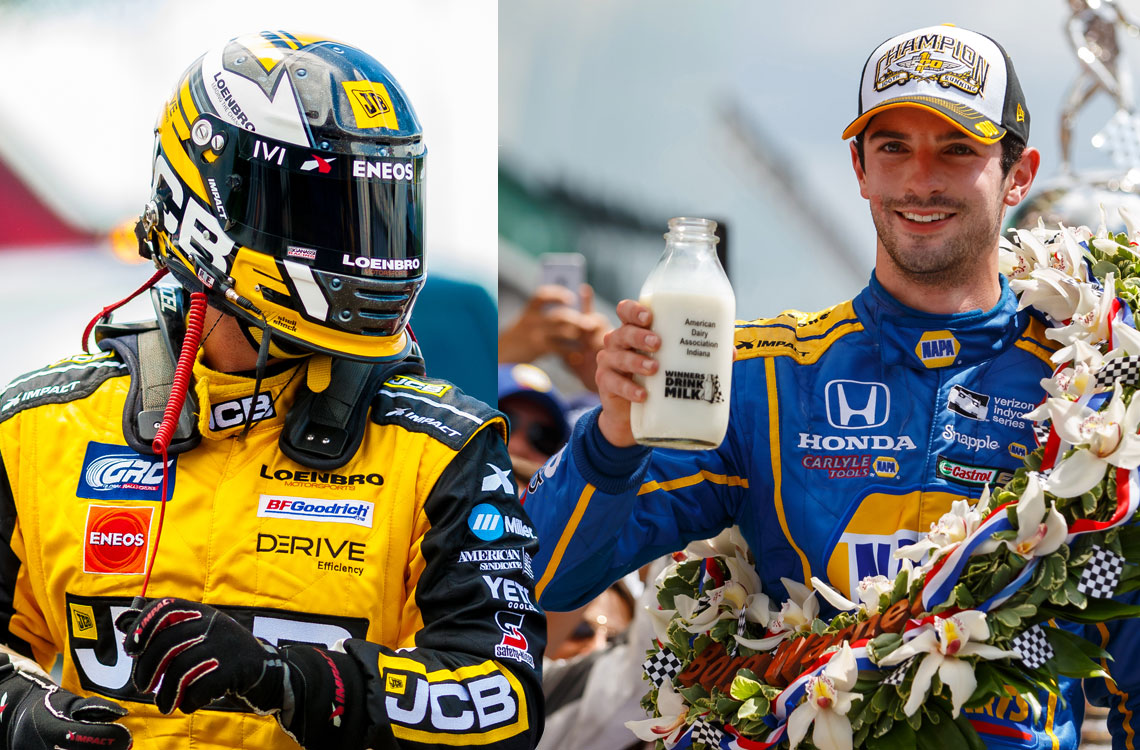 Impact‰Ûªs custom firesuits are made in the USA and are the culmination of over 50 years of race safety experience and continual research and development. Handcrafted from the finest Nomex materials imported from Europe, our full-custom suit is tailored to fit you perfectly. With many colors to choose from, your custom suit can be made in one of our standard styles or your very own custom design and can be embroidered with all of your sponsor and series logos as needed. Available in one-piece or two-piece variations, our suits are manufacturer certified to stringent SFI specifications and can be rated to an SFI 3.2A/5 with either 2 or 3 layers or SFI3.2A/15 or 20 with our exclusive multi-layer drag suit.




How to Order a Custom Suit
Step One: Pick your design.

You can pick from one of our preset designs, or get your very own custom design. Working with your sales representative and our internal art department, we can come up with something based off your car's paint job, another suit design you've seen and love, or just about anything you can think of. Here are our pre-set designs, a pdf of which can be downloaded here if needed. To use one of these designs simply tell us what color you want each area to be: area A, area B , and area C (on some designs). See colors below.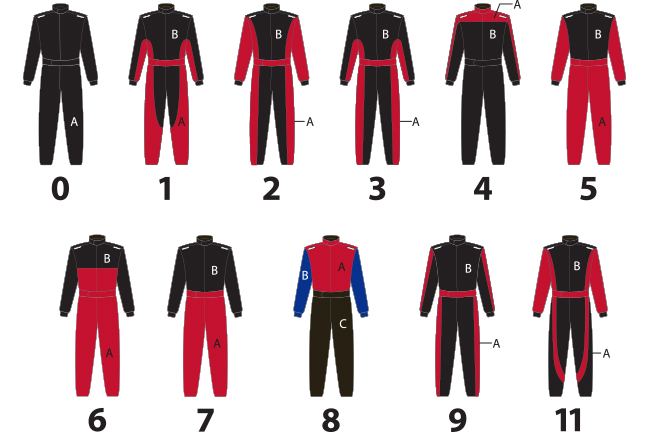 Or if you want to design your own, we have a blank suit template you can use Adobe Illustrator/Photoshop to design on, or hand draw your own design and photo/scan to send in for our art department to work from. The download is here.

Again, you can also send in photos of your car, a photo of an older suit of yours you've always loved, a photo of your favorite racer, etc. Anything you want us to reference will help us deign the suit you want can be supplied.Step Two: Pick your suit colors.

We have plenty of colors of our Nomexå¨ fabric to pick from for your suit design, here's a chart.


Step Three: Pick your suit options.

Now is the time to decide what suit options you'd like. The main 2 decisions (aside from the SFI Rating desired) are collars and leg cuffs.

We offer two types of collars on our suits:
Banded - Meeting in the center of the front with no hook-and-loop overlap.
Wrap-Around: With a hook-and-loop flap across the front for secure closure.

There are two types of leg closures to pick from:
Ribbed Knit - Pant cuff is gathered at the bottom with a ribbed cuff that tucks into shoe.
Boot Cut Cuff - Ribbed cuff on the inside covered by a straight leg cuff on the outside that covers the shoe.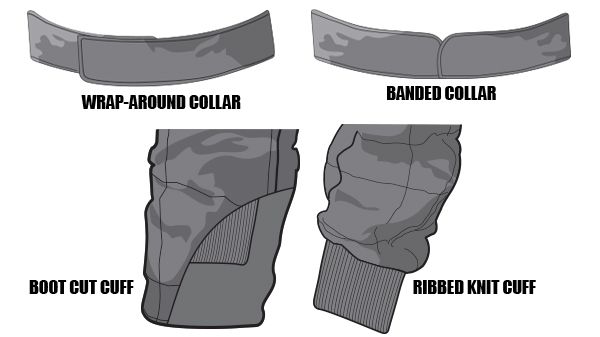 We also have other available options such as: built-in arm restraints for open wheel and drag racers, an assortment of passport and cargo pockets for off-road racers, different levels of pro suit gusseting, and more, Please contact a sales rep if you have any questions regarding additional options and pricing.Step Four: What size should your suit be?

Most custom suits are made suit to match your personal measurements. Click here to download a printable PDF chart of our custom body measurement form. Please fill this out in full with all info including date, height, and weight. There are instructions on page one of the PDF, but if you have any further questions regarding this form or how to take these measurements, please contact a sales representative at 317-852-3067. The more accurate and fully completed this form is, the more info we have to make sure your suit fits you the best it can.
You can also get a standard sized suit, but with your custom design and logos added. Please see the chart below to determine which standard suit size is appropriate for you. This is a general guideline for our standard suits (Racers, Team Drags, etc).


Step Five: Logos and Embroidery

We can embroider your suit with as little as your name on your belt to a fully sponsored suit with your main sponsor and as many associates as needed. We supply your race series required logos at no charge, aka: NASCAR/Sunoco/Goodyear or ARCA/Menards/GeneralTire if needed. Any additional logos will incur further charges (per logo). This pricing info is available from your sales rep and is based on logo size, complexity and stitch count).

We have thousands of logos on file already so chances are we have most of your major brands and motorsports related logos ready to go, but we may not have all of the logos you'll need on your suit. If it is a new one for us, you will have to provide them in VECTOR format to us, which will be AI or EPS, and sometimes PDF files. We cannot use logos pulled from websites like GIF, JPG or PNG files. If you are unable to source the vector logos needed from your sponsors or car-wrap vendor, Impact might be able to reproduce the logo in house for an extra fee. Again, please contact a sales rep and they will work with our art department to see what is needed to complete your order.

Step Six: Order your suit. Use IMPACT custom suit order form

Once you've gathered all the information above and are ready to order your suit, please call 317-852-3067, or email here, to start your custom suit order. You will work through your sales rep to get an art rendering of your new suit (via email) for you to refine and approve before production begins. We hope to make this process as easy and simple as possible.

Copyright IMPACT Racing